The solution uses APEX 4 built-in jQuery libraries.
The idea is to create a "containing region", that is a region that will contain the sub-regions.
Those sub-regions then will appear as a tab on your page.
Create a template for the containing region
Go to "Shared Components" – "Templates", filter on Region Type templates:



Give the template a meaningful name. In my example I use "jQuery Tabs"
Choose "Custom 1" for the template class
Press the "Create button"
Editing the template
You now have the "jQuery Tabs" template in your list.
Open it by clicking on the name: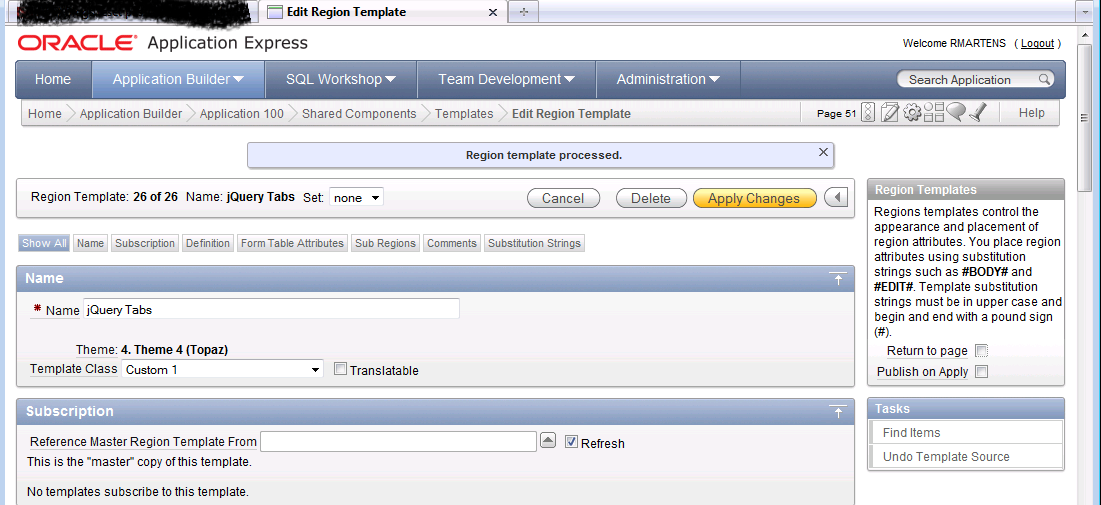 We must place some code in the "Definition" section:
<div id="#REGION_STATIC_ID#" #REGION_ATTRIBUTES#>
#BODY##SUB_REGION_HEADERS##SUB_REGIONS#
<div style="clear:both;"></div>
</div>
<link rel="stylesheet" href="#IMAGE_PREFIX#libraries/jquery-ui/1.8/themes/base/jquery.ui.tabs.css" type="text/css" />
<script src="#IMAGE_PREFIX#libraries/jquery-ui/1.8/ui/minified/jquery.ui.tabs.min.js" type="text/javascript"></script>
Go to the "Sub Regions" section, this consists of three items:
Header Template

<ul style="height: auto;">#ENTRIES#</ul>

Header Entry Template

<li><a href="##REGION_STATIC_ID#-tab-#SUB_REGION_ID#">#SUB_REGION_TITLE#</a></li>

Template

<div id="#REGION_STATIC_ID#-tab-#SUB_REGION_ID#">#SUB_REGION#</div>
The template is now ready. Save the template.
Next step is creating a Containing Region on the page
Go to the page: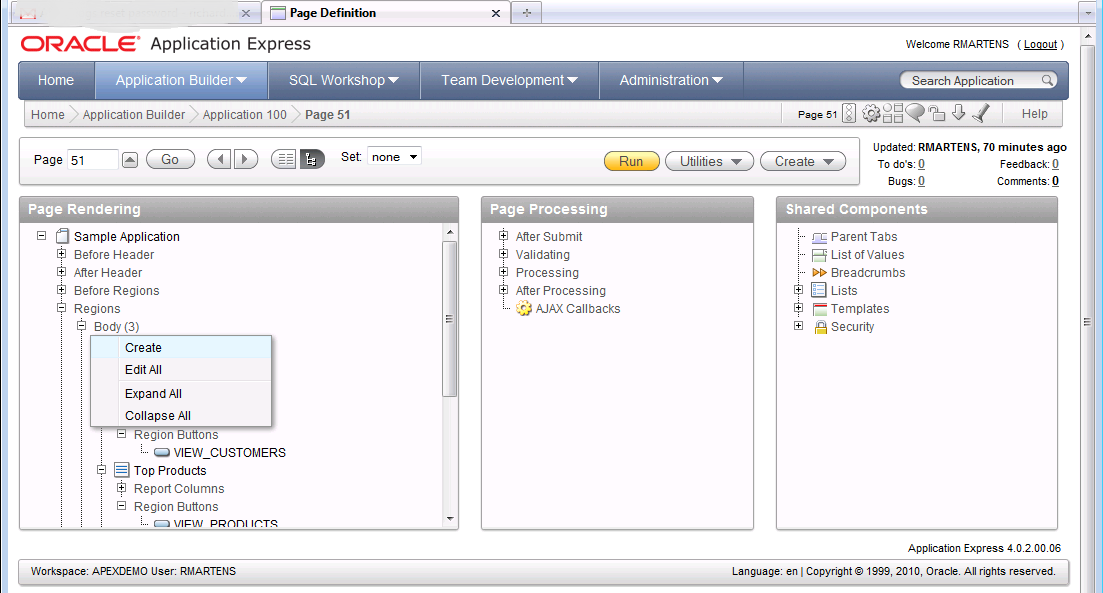 Create a HTML-region: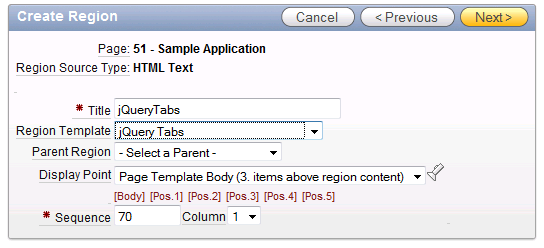 The Title doesn't really differ that much, it's only for you reference.
Choose the correct Region Template ("jQuery Tabs")
Leave the rest as defaulted.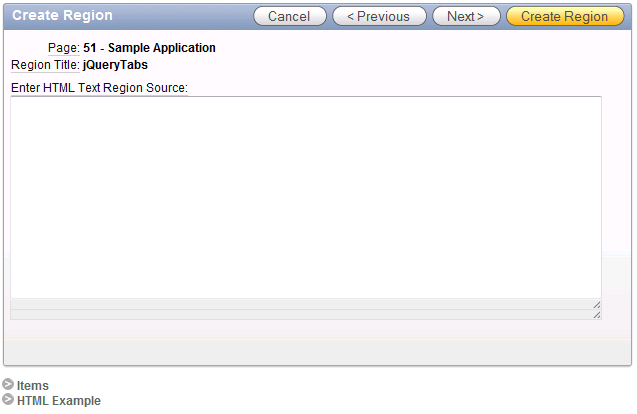 leave the presented HTML region source empty. Remember we're going to use this region only as a container for sub regions
Open the region we just created:
Go to the "Header and Footer" section and place this code in the footer:
<script type="text/javascript">
 apex.jQuery(function() {
 apex.jQuery("##REGION_STATIC_ID#").tabs();
 });
</script>
Now open each region that should be transferred into a tab and change the parent region (within the section "User Interface") to the newly created container-region ("jQueryTabs")